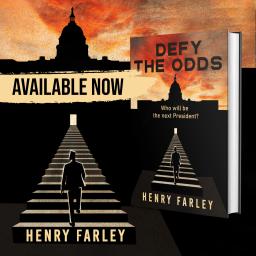 "Defy the Odds" is now available. Three editorial reviews said the following:
Review #1: Review by Rabia Tanveer.for Readers' Favorite. Review Rating: 5 Stars
Usually, political thrillers bore me. However, Defy the Odds had me hooked from the very beginning. I have to thank author Henry Farley for this. The prologue offered a summary of the story without giving away the plot. Instead of playing a guessing game with readers, he lays down the facts for them so that they are fully involved from the outset. I love how Kowalski took control of the situation, leading from the front, and was fully immersed in the case. While the author talks about many issues that will become more pressing in the future, he never once loses focus on the plot. The impact of the meat industry, global warming, and carbon footprints are being studied and evaluated, but this novel gives us a good look at what could happen in the future if we are not careful. The pace of the story is fast, but not overwhelmingly so. The readers get plenty of time to adapt to the story, pick a side, and enjoy the ride.
Review #2: Review by Jamie Michele for Readers'Favorite. Review Rating: 5 Stars
A novel with a rising body count, bombs, spycraft, a nod to the small California city of Walnut Creek that I personally lived in, and... a porn-stache. Defy the Odds is basically my Christmas list in a tidy novel by Henry Farley. I had doubts in the first few chapters when Farley was quick to point out that FBI Agent Mike Kowalski's sidekick James is an FBI mole and saboteur, but as the book progresses it becomes clear this direction is relevant to the plot trajectory and not the spoiler it seems. Surprises are everywhere and there continue to be shockers throughout, namely murders that are real and even one that only pretends to be [enter, the porn-stache]. The prose is tidy when all is accounted for and those pages turn fast. I finished in two days and loved every minute of it. Very highly recommended.
Review #3: Review by Asher Syed for Readers' Favorite. Review Rating: 5 Stars.
Henry Farley writes a savvy thriller with a cast of diverse characters in Defy the Odds. Honestly, it's the beef ban that got me to pick up the book as it is a fantastic fresh angle to launch a story from. The ban and demonstrations are certainly strong subplots but it is more a catalyst for a perfect storm and, within the framework of the larger plot, it is probably one of the most creative smokescreens I've come across in the political suspense genre. Kowalski is as likable as one would expect from a straight arrow, fallible in his own way but fundamentally above-board. Shaw's conflict is the most riveting and in a testament to Farley's skill as an author, he is also very likable. Like everything in politics, there are pawns, such as the unsuspecting and lamb-like Elle, and there are also those who are set up for collateral damage, whether intended or not. Overall, this is an intelligent, solid body of fiction and I'm pretty sure those smart enough to give it a shot will agree.